In this post i'll explain how to autofold your bimmer's mirror by the key itself.
On the key – Long press the BMW logo (lock button) for more than 2 seconds. With this method , the mirrors will automatically unfold upon unlocking the car.
On the driver's door on the car. With this method the mirrors won't automatically unfold when unlock but only through the button numbered 3 below. This is practical in cases when the car is parked in your garage and you are constantly loading/unloading stuff in the car.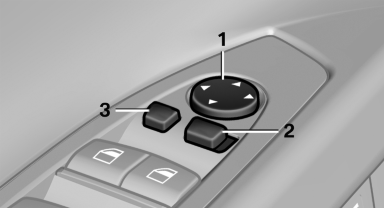 Driver door panel
1 Adjusting
2 Left/right, Automatic Mirror tilt when reversing on passenger side
3 Fold in and out
Please follow and like us: